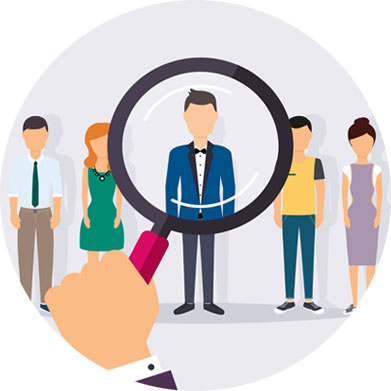 Jobertising Direct is relationship & results driven. Our mission is clear - Employ our passion for delivering clear solutions to drive top rated performance for our clients.
We do this by finding our clients the best quality employees for their organization. Hiring top professionals for in demand positions is no easy task. It's all about finding the right candidates and attracting them to your organization.
The best candidates are not looking for work, they are not looking at job boards and they most certainly do not want to risk losing their current position. Jobertising Direct uses a national network of professional recruiters who engage these candidates on behalf of our clients on a daily basis. Our clients range from small business operations to fortune 100 companies. It's simple. We find them, you hire them.
Our Process
Jobertising Direct is the only Direct Placement firm that has instituted a white glove approach to providing staffing & recruitment solutions. We appreciate the value in establishing a firm understanding of each one of our client's unique challenges and priorities to provide them with solutions that are exclusive to their organization & recruitment needs.
Jobertising Direct's Client Connect team will engage with you to thoroughly review your needs and expectations. It is vital to our success that we have a clear understanding of each client's needs, position(s), work environment, company culture, and process.
Who We Are
Our team consists of high-performing, high-volume, high-energy recruiters who specialize in getting the right talent in front of you as quickly as possible. Our passion for excellence drives us to provide valuable solutions that "wow" our clients every time. Our Recruiters are fluent in multiple recruitment disciplines. We specialize in finding the needle in the haystack.
We have multiple recruiting teams who specialize in industry specific placements such as:

Executive Placement
Financial Service
IT/Engineering
Healthcare / Medical
Legal
As a Jobertising Direct Client, you'll be assigned at least one Principal Recruiter as your point of contact.
Your principal recruiter will always have in-depth knowledge within their respective discipline/s, ensuring that you have an expert working with you at all times.
If you're not sure what you're looking for, our team has the tools and experience to help refine your needs.
OUR FEES
We have a few different models depending on which avenue our clients want to take. We can either go on retainer, have an engagement, contingency, or placement fee.
Contact us today for a one-on-one assessment of your Direct Placement needs.